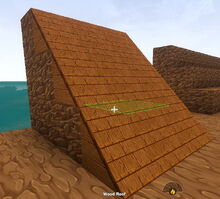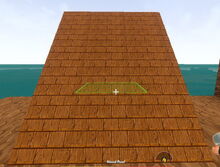 The Wood Roof is a slanted building-block covered with wooden shingles that you can use as a roof-tile or for other purposes (it can be rotated).
It can be crafted in your Crafting Menu (default key "Q"), after the according crafting-recipe has been unlocked by
To craft 8 (blocks of) Wood Roofs, you'll need (as of R43 in May 2017):
Crafting Wood Roofs is one of the unlocking requirements of the crafting recipe for Stone Roofs.
Since R42 in May 2017 you can now put Wood Roofs in a Processor to create inner and outer roof corners.
Even though it is a wooden building block, the Wood Roof currently (as of R26 in December 2015) is fireproof. Even when throwing Fire Bombs at Wood Roofs, they still will not go up in flames.