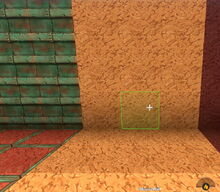 The Stucco Wall is a peach-colored building block with a pumice-like surface.
The block can be rotated by pressing and holding R and moving the mouse while holding the left mouse button.
It can be crafted in your Crafting Menu (default key "q") after the according crafting recipe has been unlocked by
To craft 8 (blocks of) Stucco Walls at a time, you'll need (as of R44 in June 2017):

Crafting the Stucco Wall is one of the unlocking requirements for the Dark Stucco Wall, the Ruddy Stucco Wall and the Copper Wall.