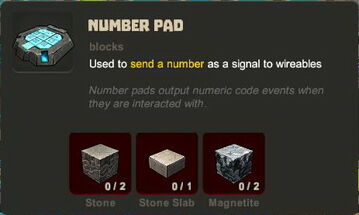 The Number Pad is part of the Wiring-System in Creativerse.

Number pads output numeric code events when they are interacted with.
It is a Numeric Value Sender.
It is only an Output-Machine, a pure Sender.
If the Wiring Tool is used to connect with a Number Pad,
it will display the Send Hotspot Overlay-Image.

The Number Pad can be configured with the Wiring Tool.
With the Wiring Tool equiped, point on the Number Pad-Block, press the Key "N" to display the Inspection-Window.
It can be named.
It can be restricted for Access
(Access Control - Lock Symbol)
It can be set a Autoreset Timer from 0 to 10 in Steps of 0.5 to clear the Numbers.
To send out Numbers connect the Number Pad with a Reciever and interact with it (F-Key).
In the Pad Window You can type in Numbers to send them out.

The Number Pad can be crafted in your Crafting Menu (default key "Q").
For 4 Number Pad You need these Items to craft them:
The Number Pad will be unlocked after Crafting the Logic Gate.