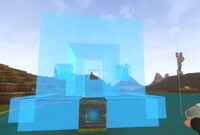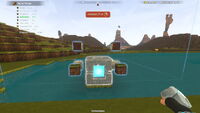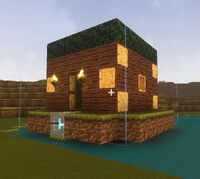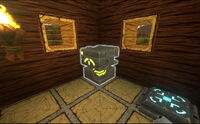 The Blueprint for the Janky House was once given to players when creating/starting a new world during a few months from updates R24 to R27 in January 2016, and with the first note in their inventory, player-characters during that time were told to build a house from this blueprint as a shelter.
It has been captured by several players and is offered as a player made Blueprint in the Steam Workshop for Creativerse. To get it, browse the Workshop by clicking on the according button in the Blueprint Window, subscribe to it, and then get the cornerstone for free after choosing it in the "library" (the icon that looks like 3 figures).
As the Blueprint description mentions, the Janky House is only 3x3 living space and not optimal as a base of operations. However, it was a good learning tool for new players to test and understand Blueprints without regrets.
The Original Blueprint was suggested to be built with these 123 blocks:
The v2 Blueprint was suggested to be built with these 123 blocks:
However - like it's the case with all Blueprints, all blocks and materials can be exchanged via advanced options, or simply ignored according to personal taste.
The screenshots are still from the times when the Janky House was an official Blueprint offered by Playful.