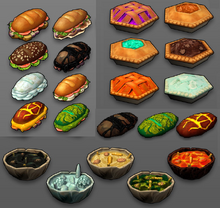 Basic Information
Edit
At a Cooking Station you can cook up to 36 various types of Food from only 4 cooking recipes.
Depending on the ingredients that you will insert in the slots of the Cooking Station, up to 36 different kinds of Food will turn out.
There are only 4 cooking recipes that can be unlocked in the Cooking Station:
Gingerbread Loaves are a variation of Bread, made with Molasses.
No special cooking recipes have to be unlocked or found in order to cook special types of Food like Tar Bread, Bog Broth, Frigid Sandwich, Egg Drop Soup, Corrupted Pie or Jerky Sandwich just to name a few examples - all of these and more can be created with just the existent 4 cooking recipes.
Consuming Food
Edit
All types of Food (not all of their raw cooking ingredients though) can be consumed by your player character and will then grant you various buffs (positive effects) over time depending on the Food - usually for 15 minutes (Soups, Sandwiches, Pies), however only 7:30 minutes for all kinds of easy-to-cook Breads.
Some Crops like Horned Melons can be consumed for effects by player characters just as they are (not recommended because of their weak buffs) and can be fed raw to some Pets even as their favorite Food sometimes, just like Mushrooms.
Player characters can have several active buffs at the same time. However, if they consume the same Foodstuff twice while the effect is still active, the effect will merely prolonged to the maximum amount of time once again.
Please note that some types of Food provide twice as much bonus points to the maximum Stamina than their tooltips state for "Pro" players, except for Melon Sandwich, which in return provides half the max. Stamina than its tooltip claims for free players.
How to obtain
Edit
36 types of Soups, Bread, Sandwiches and Pie can be cooked in a Cooking Station after the 4 recipes for these four kinds of Food have been unlocked.
Some Foodstuff can be obtained from Ghost Loot bags, Haunted Ghost Treasure reward chests for successfully completed Idol Events, Holiday Gifts that spawn during the Christmas Holiday event, Holiday Loot Bags dropped by Trog Trap Event Creatures and/or Reward Holiday Gift Boxes for successfully completed Trog Trap Events.
Since Food can only be placed into display containers but not into the game world as is, it cannot be bought via building kits for Blueprints, since items in display containers of Blueprints are merely "ghost images", not actual items that you could take out and use.
Feeding Pets
Edit
Food can also be fed to Pets, so you can then harvest from your Pets.
Pets are immortal and can survive without being fed. They just cannot be harvested from as long as they are hungry. Please note that Pets will give inferior harvest if they did not eat their exact favorite type of Food. For example: if you feed an ordinary Sandwich to a Pet that prefers Jerky Sandwich, then this Pet will not provide you with its best possible harvest after digesting the Food.
Check the Pet window of your Pets to learn about their favorites (point your cursor at a Pet after taming it, then click the right mouse button or press "f" as the default key).
To feed a Pet, move a (stack of) Food from your inventory or quickbar over the Pet window, or use right-click on the Food when the Pet window is open.
Eggs - a rather important ingredient for Food, especially for all types of Pie - can only be obtained as a pet-harvest from Chizzard-Pets, Night Chizzard Pets (common Chizzard Eggs) and Blizzard Chizzard Pets (special frigid Blizzard Chizzard Eggs). Eggs cannot be obtained by killing these Chizzard types, nor when they die from "natural" causes like drowning.
Cooking Station
Edit
Cooking Stations can be crafted after unlocking their free crafting recipe in the crafting menu by
To craft one Cooking Station in your Crafting Menu, you'll need:
All Food-types currently require at least one type of Crops.
3 types of Crops occasionally spawn on the ground of certain Biomes one after another over time; Horned Melons (only in Jungle biomes), Turnips (Swamplands, Forests, Woodlands, etc.) and Crisphead Lettuce (Forests, Woodlands, Grasslands, Mountains, rarely Tundras etc.). The longer you play, the more of these Crops will appear in the game world.
Instead of cooking these Crops that you can find right away, it's recommended to process the Crops into Seeds in a Processor, then to plant these Seeds (use a Plow to till Dirt or Grass next to Water) and such "multiply" them. Since you can harvest many more Crops that way, you can use some of them to cook Food, and you can use the rest to process Seeds and grow even more Crops.
Wheat on the other hand can only be grown from Wheat Seeds though. These Seeds can be obtained as a random extra harvest when plucking Tallgrass and/or Savannah Tallgrass. You can simply place one patch of Tallgrass/Savannah Tallgrass, pick it up, then place it again and repeat this in order to collect an infinite amount of Wheat Seeds.
How to unlock cooking recipes
Edit
There are only 4 cooking recipes: Soup, Pie, Bread and Sandwich.
Depending on the ingredients that you will insert in the slots of the Cooking Station, up to 36 different kinds of Food will turn out.
You do not have to search for any rare Recipes in order to create special kinds of Food. Even Gingerbread Loaf can be cooked using the common recipe for Bread without a specific Christmas-related cooking recipe.
Two quests from QB require cooking.
1. Fresh Baked Bread
Edit
Badge: Homesteader
Unlocked by: completing the quest "Dirt-y Jobs"
Objectives:
Rewards: 20 more loaves of Bread, 20 more loaves of Bog Bread and 20 more loaves of Wholesome Bread
Unlocks: quest "No Soup For You"
2. No Soup For You
Edit
Badge: Homesteader
Unlocked by: completing the quest "Fresh Baked Bread"
Objectives:

obtain (any type of) Soup like by choosing the recipe for all types of Soup in your Cooking Station and then inserting 2 units of any liquid together with 4 Vegetables (either Crisphead Lettuce or Turnips) and 3 more ingredients like Turnips, Lettuce, Horned Melons, Mushrooms, Chizzard Eggs, Blizzard Chizzard Eggs or Questionable Jerky. Corrupted Soup made from Corrupted Water is very helpful for explorations and hunts on the Corruption layer
obtain (any type of) Sandwich like by choosing the recipe for all types of Sandwiches in your Cooking Station and then inserting any type of Bread that you have cooked/baked together with 3 Vegetables (either Turnips or Crisphead Lettuce and 3 more ingredients; either Turnips, Lettuce, Horned Melons, Mushrooms, Chizzard Eggs, Blizzard Chizzard Eggs or Questionable Jerky.

Rewards: 20x Tar Soup (very good Fuel), 20x Blazing Sandwiches, 20x Turnip Sandwiches (with a curative effect)
Unlocks: Homesteading Badge that permanently reduces cold damage 
How to cook Soups, Breads, Sandwiches and Pies
Edit
First choose one of the 4 basic recipes, then right-click on the ingredients in your inventory/bag in the correct order (from left to right) or drag & drop them over the according slots with your left mouse button.
Note: only Crisphead Lettuce or Turnips will fit into the slot for "Vegetables" (the second slot for Soups and Sandwiches) of the Cooking Station - and can also be used in the third/fourth slot as well. Horned Melons, Mushrooms and Questionable Jerky will only fit into the last slot and often (but not always) leads to special types of Food being created.
List of Food and their effects (7:30 min. for all Breads, 15 min. for everything else) Edit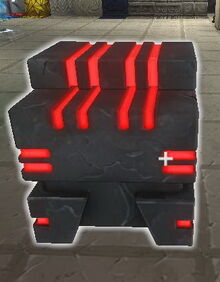 Maximum Stamina is enhanced twice as much for players who own the Pro DLC as for free players.
Duration of effects Edit
Bread (all types): 7min 30sec
Sandwich (all types): 15min
Soup (all types): 15min
Pie (all types): 15min
Crops, Eggs and their effects Edit
You can consume many Food types and have all their bonuses or resistances active at the same time. Different foods even "stack" their bonuses if the bonuses are of the same type (for example: consuming one Turnip and one Crisphead Lettuce will grant your player character +200 Health points in summary).
Consuming the exact same type of food once more only prolongs the effect to its maximum timespan.
Where to get the ingredients
Edit
Blizzard Chizzard Eggs can only be obtained from tamed Blizzard Chizzard. Blizzard Chizzards usually spawn during the day on Snow in Taigas, Tundras, on frozen Oceans or frozen plains. You will only be able to harvest Eggs from them after they have become your Pets and you have fed them their preferred type of Food.
Community content is available under
CC-BY-SA
unless otherwise noted.