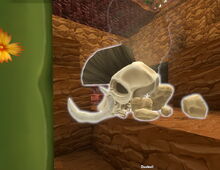 You can obtain Dustevil Dust from Dustevils of course, either by killing them or by taming them and harvesting from them when they are your Pets. They are usually aggressive, except for on game worlds where the "Pro" world option "passive Creatures" is enabled.
You can either hunt Dustevils or make them spawn on arenas that you build yourself to obtain Dustevil Dust from them. Dustevils can spawn on any Canyon-related kind of rock or block, including Cacti and Sandstone, but usually only during the day.
These aggressive Creatures don't need darkness to spawn and enjoy lying in the sun looking like a pile of bones, until player-characters will come close enough. Dustevils can hurl player characters high up into the sky
Dustevil Dust is a necessary ingredient for Crafting Recipes like Corruption Resistance Potions and Force Bombs, and it's also an unlocking requirement for the crafting recipe of Force Bombs.
This material cannot be put into your quickbar and cannot be placed into the world. It also cannot be displayed on any display containers.